The use of computers, computer applications and calculators does improve understanding in Mathematics. So ICT is used whenever appropriate in Mathematics.   It has been said that the earlier in their schooling that students learn skills in ICT, the better they become at mastering it.
Grades 7 & 8 at TIS are no exception.  Within the first week of the academic year, they beg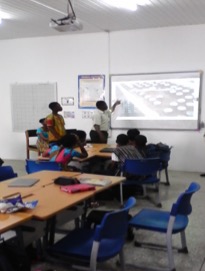 an sharpening their skills in some of the technologies they will be required to show mastery in before they reach IBDP level.  Grade 8 began their lessons with their laptops and Graphics Display Calculator (GDC) emulators to carry out mathematical problems written in several types of notation.  They tried out skills on the emulators installed on their laptops and had fun learning new notation as well as recalling old notation which they will later use on a hand held GDCs once they can own one.
Both MYP and International Mathematics the two pre-IBDP courses offered at TIS require the use of the GDC and other forms of ICT.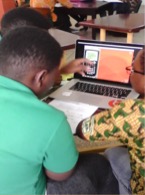 Grade 7 armed with their laptops and the internet created their own power-point presentations for the class on the origins of number systems around the world.
Like ducklings to water the youngest members of TIS showed that they were truly born into a tech-filled era.  With the inquirer spirit pushing them on they each tried out and picked up new skills which they will use to master the use of the GDC or other presentation media in time to come.
Not to be out done by their juniors Grade 9 have also began to use TI 84 Plus emulators in preparation for the use of the hand held GDC later this semester