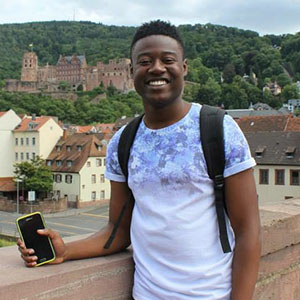 Kwabena Agyare
Year Group: IB Class of 2014
Year Group: IB Class of 2014
Hostel/Colour Group: Anthony Hostel  /Yellow Outeniqua
Roles played at TIS
Drama: Supporting role in Joseph and the Technicolour Dreamcoat(2011), Lead role in Dormitory C-The Inspection(2012), Student Director of the Lion King Production(2013)
Debate:
Legislator-in-Chief of the TIS Debate Society, Represented Ghana at the International Public Speaking Competition in London, May 2013, having won the local, regional and national competitions.
Model UN:
Represented TIS regionally, nationally and internationally in the Netherlands.
Secretary-General of the TIS @10 Model United Nations Conference.
SRC
Class Representative for Grade 8, Public Relations Officer(2012) and President(2013/2014)
Miscellaneous: 
Lead 2nd violinist of the TIS Chamber Orchestra
co-Editor of TIS "X" File Magazine(2013)
President of Genesis Christian Group
Vice President of Akorlikope Support Program.
Head of Anthony Hostel Choir
Achievements:
Academic-Grade 9- Geography, Music, Biology and ICT
Grade 10-ICT, Geography
Grade 11-TOK, Geography SL
Grade 12-Geography SL
MUN:
Won 7 awards across my MUN career at national, regional and international conferences including Best Delegate, Best Opening Speech and Best Rebuttal.
School Awards
Principal's Award for Best Behaved Boy(2011-2012), Most Engaged CAS Student(2012-2013), Plaque of Honour(2012/2013), TIS IB Learner Profile Award(2013/2014)
Current University:Northeastern University, studying Political Communications, and a minor in African Studies.
University Awards :Winner of Northeastern's Public Speaking Excellence Competition. Completed 6-month coop at Mayor of Boston's Office of Constituent Services(Boston 311)
Word of Advice:

Try to soak up the opportunities that come your way in TIS. Get involved as much as you can. Even if there is one thing that you are passionate about, pursue it to the best of your ability. Putting yourself out there allows you to become a vital contributor to the TIS community.