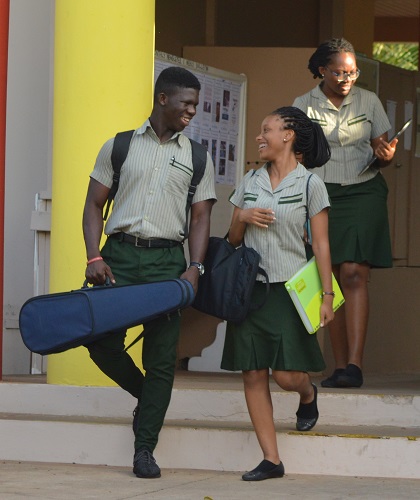 Thank you for considering Tema International School  for your child's secondary education. We understand the importance of choosing a school that suits the needs of your children and meets the standards that you, as parents, wish to have for their education. We hope the information on our website and admissions portal is useful, but if you would like additional information about our school or programs, we will be more than happy to help.
TIS is committed to an admissions policy that enables the school to accomplish its mission and fulfill its vision in a manner that is fair, transparent and consistent with its core purpose.
You are also more than welcome to schedule a visit at a time that is convenient to you to meet us and take a tour of the school facilities. We look forward to meeting you!
ADMISSIONS FOR 2018/2019
Admissions for 2018/2019 officially opened on 1 December. However, using an online system, https://tis.openapply.com means applications are ongoing, and you can even express interest, or apply for the 2019/2020 academic year.
It benefits TIS if our admissions process is completed early, by the end of May. The benefit to parents for completing the admission process early is discounted fees at the application and admission stages of the process.
Online aptitude testing will replace the traditional entrance exam. This change has two benefits for students:
it eliminates any bias for students studying under different school curriculum programs; and
the test can be completed at TIS at any time convenient to the student (and parents) and TIS.
Detailed information about admission to TIS and the process can be found at: https://tis.openapply.com
GRADES 7, 8 (MYP as a Candidate School) and GRADE 9
 (MYP as a Candidate School with IGCSE exams optional at end of Grade 10)
Prospective students are required to complete application forms online via https://tis.openapply.com
An application fee can be paid via ExpressPay, at the school or into the school's account. The account details can be found on the Bank Details page.
All prospective students are tested and interviewed before they are admitted to the school. Online testing will be available from January to June each year.
For students who reside outside Ghana and cannot sit for the online tests in TIS, it can be arranged for them to take the tests wherever they may be. They are required to furnish TIS with the name and address of the supervisor who will be in charge of the test. Details will then be sent to the supervisor. The supervisor is expected to contact parents of the prospective students to arrange a date for the online test.
Late entrance testing is also sometimes conducted depending on the number of vacancies still available.
It is very rare but students may be accepted into their final year of IGCSE class on three conditions:

If they are transferring from some other school that offers the IGCSE program.
If they are taking the same subjects that we also offer.
If there is a vacancy.
GRADE 11 (IB DIPLOMA PROGRAMME)
After the IGCSE programme, TIS students are expected to complete the IB Diploma Programme in Grades 11 and 12. They will make initial subject selection choices during the second semester of Grade 10. The release of IGCSE results will confirm subject selection levels (Standard or Higher).
There are always places available for students who are applying from other schools. It is, therefore, advisable that students apply early, if they are planning to pursue the IB Diploma Programme at TIS.
Applications can be made with current predicted grades. Prospective students are expected to upload their predicted grades in addition to their transcripts when completing the application form. Offers will be made based on predicted grades.
As soon as the final IGCSE results are released in August, applicants are required to attach a scanned copy to OpenApply. The release of IGCSE/GCSE results will confirm subject selection levels (Standard or Higher).
OTHER EDUCATIONAL QUALIFICATIONS
Students with qualifications other than IGCSE or GSCE will be required to complete online testing and an interview will be conducted. Admission is offered to successful applicants. Please note that students are not normally accepted into the final year of the IB Diploma Programme, unless they have completed the first year of the Diploma Programme at another school and they are taking the same subjects that are offered at TIS.