For our CAS project, my group members wanted to solve a problem around our community since most people do not live in very good conditions. During our search, we found a school called Ashaiman No.2 JHS. They lacked clean and safe washroom facilities, making it difficult for students to attend school regularly, as they were more prone to falling ill and required time off to recover.
To solve this problem, my group members and I raised money to refurbish their toilet facilities. We raised money by explaining to parents what our project was about and they donated money to us and we also raised money by selling artwork. From this, we raised an amount of approximately 31,000 Ghana Cedis to refurbish their toilet facilities completely. In the process of completing this project, we made use of collaborative skills and communicative skills. I worked with my supervisor, Auntie Setor and my group members through collaboration and communication. Effectively we communicated our aims and goals to parents and the school community and got them involved in supporting our project. The project was not one without challenges; we encountered financial problems and insufficient resources but with careful planning and teamwork, we overcame this setback. These difficulties taught us the value of hard work, determination and perseverance.
The project was handed over to the school on September 7th, 2023. When the project was done, I was in complete shock. Seeing their toilet facility transform from a run-down unsanitary place into a safe and clean space was incredibly exciting and truly amazing to watch. The teachers and staff of the school were so grateful and happy because they knew we had solved a problem that they had been struggling with for years. One of the teachers said, "We are very grateful for this project, I pray that you succeed in everything you do, God bless you", That statement was very sentimental and showed me beauty of helping your community.
To sum it up, embarking on this project was quite an experience and I am glad my group members and I decided to start SaniFlush to help Ashaiman No.2 JHS. Our project touched on the UN SDG Goals: Good Health and Well- Being, Clean Water and Sanitation, Industry, Innovation, Infrastructure, and Life on Land. By completing this project, we have made a meaningful contribution towards creating a sustainable future for the community, improving people's lives, and protecting the environment around us. By aligning with the UN SDG goals, we hope to motivate others to join us in our efforts to create a more equitable and sustainable world for future generations. Papa Duodu Fynn, G12.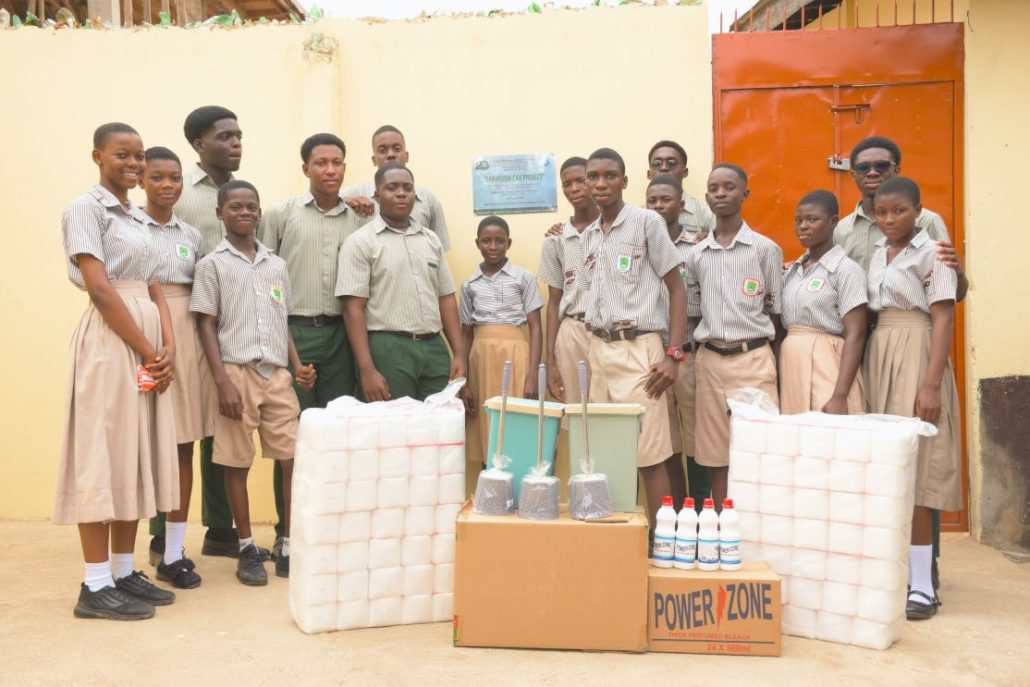 Completing the toiletry facilities restoration project at Ashaiman No.2 JHS school community has been a tremendously rewarding experience. As a team, we set out to improve the sanitation conditions in the local school, understanding the beneficial impact it would have on the students' well-being and the long-term impact it would have on the school community.
The importance of community collaboration was one of the first lessons I learned while working on this project. We were lucky to have the assistance of volunteers such as student parents, school administration, and our parents, who went far beyond to assist with this project. Their excitement and dedication were inspiring, making the entire process more meaningful. The project was not without its difficulties. We encountered budget limits and had to carefully manage our resources to ensure the project was completed satisfactorily. It took careful planning, teamwork, and adaptability. We had unanticipated setbacks but learnt the value of perseverance and problem-solving in the face of adversity.
Seeing the toiletry facility develop throughout the project was simply amazing. What was once a run-down and unsanitary area was transformed into a clean, safe, and practical space for these students to use. It was encouraging to think about how this will improve the students' daily lives. The most rewarding event was probably the completion of the project and the handover to the school on September 7th, 2023. It was profoundly emotional to witness the school staff and pupils' excitement and gratitude. Knowing we had helped improve their quality of life and provide better facilities gave me a sense of satisfaction and purpose.
Throughout the project, I learned significant lessons about community engagement, resource management, and the tangible effect that collective efforts can create. It reinforces the concept that simple acts of compassion and community service can have a long-term influence on the lives of those less fortunate than us.
As I reflect on this project, I'm struck by the significance of giving back to our communities and the satisfaction of making a positive difference. I hope the school's restored toiletry facility will continue to serve the school community for many years, promoting improved hygiene and a brighter future for the students. To all of the students to encourage them to accomplish and leave a mark in the community from which they come, to make an impact, to have influence, and to implement change for which they will be remembered. Gregory Fokou Kotang, G12.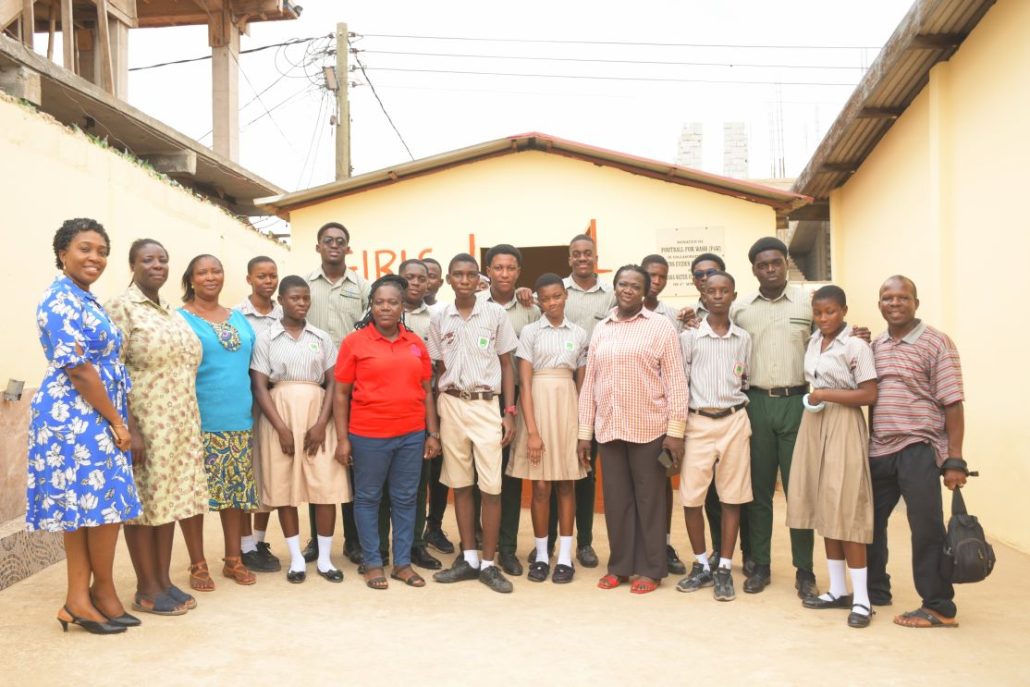 Completing our CAS Project has marked a significant milestone in my IB DP 2 program journey. From its inception in the 11th grade, this project has been a focal point of our efforts, and I can confidently say that I have no regrets about being part of it. Throughout this year-long endeavour, my classmates and I set out to address a pressing issue in our community that had been adversely affecting the lives of its residents. Our mission led us to Ashaiman No.2 Junior High School, where we discovered an unsanitary toilet facility that posed many problems.
Witnessing the critical conditions in the school's washrooms was a stark wake-up call. Many students contracted infections due to these unsanitary conditions, which hurt their health and academic performance. It underscored the importance of having a clean and conducive environment for basic human needs. Thus, we embarked on a journey to raise funds and renovate the school's toilet facility, transforming it into a more developed and sanitary space.
Raising funds was a pivotal aspect of our project, demanding consistent effort and effective presentation skills. At school events, such as our SaniFlush stand, we sold paintings and educated parents about our project. Their generosity played a crucial role in our fundraising success, enabling us to gather an impressive GHC 31,000 to support the renovation efforts.
Additionally, our group made multiple visits to Ashaiman No.2 JHS to assess the materials required and gather crucial information for the renovation process. This hands-on engagement with the community further deepened our understanding of the project's impact and reinforced the importance of community involvement.                                   
This CAS Project taught me invaluable lessons about the power of community engagement and teamwork. It highlighted the positive change that can be achieved when individuals come together with a shared purpose. As we look back on our journey from the 11th grade to our final year in grade 12, I am proud of what we accomplished and grateful for the meaningful experiences and lessons learned along the way. Bradley Hoedoafia, G12.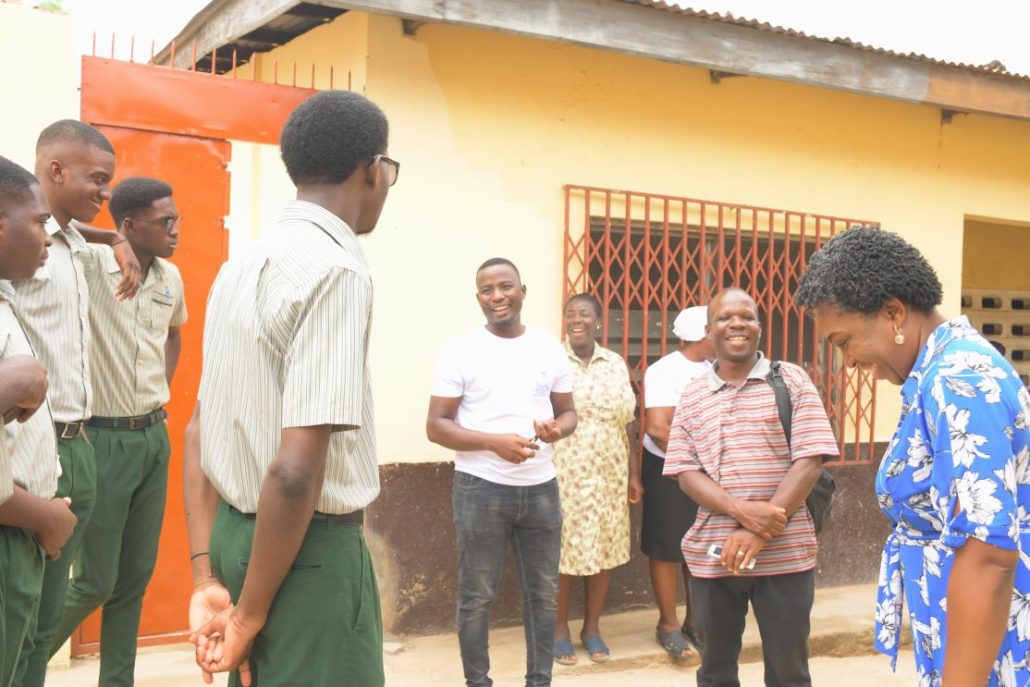 Undertaking the "SaniFlush" CAS project with my team, aligning with Sustainable Development Goal 6: Clean water and sanitation, has been an incredibly enriching and transformative experience. This project allowed us to make a tangible difference in our school and imparted profound lessons in collaboration, initiative, planning, and the significance of giving back to the community.
The cornerstone of our project's success was our ability to work harmoniously as a team. We harnessed the collective efforts of our team members and raised funds from various sources, including the generous contributions of friends, family, and school staff. This collaboration reinforced the bonds within our group and highlighted the immense power of teamwork.  It illuminated the idea that remarkable outcomes can be achieved when people unite for a common purpose.
The "SaniFlush" project began with a simple but powerful spark of initiative. Recognising the deplorable state of the girls' and boys' washrooms, we took it upon ourselves to address this pressing issue. We organised fundraising activities, such as selling artwork at our school's expression event, demonstrating our commitment to the cause. This experience reiterated the importance of seizing opportunities and taking proactive steps to drive positive change. It taught us that initiative is the driving force behind transforming intentions into impactful actions.
Effective planning was an instrumental component of our project's success. We engaged a plumber to assess the condition of the facilities and meticulously allocated project funds to necessary materials, such as new taps, toilets, sinks, and paint. This phase underscored the significance of setting clear objectives, establishing realistic timelines, and budgeting appropriately to accomplish our goals. It emphasized that comprehensive planning is the bedrock upon which successful projects are built.
We encountered various challenges throughout the project, from meeting our fundraising goals to unexpected issues during the refurbishment and ensuring that the donated resources were used efficiently. These challenges were invaluable in fostering our growth. They encouraged us to adapt, think critically, and persevere. We learned that setbacks are not roadblocks but opportunities for learning and innovation. Our interactions with the children enhanced our communication and empathy skills, reinforcing that real-world experiences are potent tools for personal development.
One of the most profound lessons from the "SaniFlush" project was the importance of giving back to the community. As we completed the refurbishment and provided essential supplies to the school, we also taught the children how to use these resources properly. This act of giving back underscored the idea that we are not just improving physical infrastructure but also contributing to the well-being and dignity of those in need. It reminded us of our responsibility as global citizens to positively impact our immediate community.
In conclusion, the "SaniFlush" CAS project served as a testament to the power of collective action and the transformative potential of youth-led initiatives. It instilled in us the values of collaboration, initiative, and effective planning, while also highlighting the rewards of overcoming challenges and acquiring practical skills. Most importantly, it left an indelible mark about the importance of giving back and making a positive difference in the lives of others. This project has enriched our lives and reinforced our commitment to making the world a better place, one small initiative at a time. Kow Yarney, G12.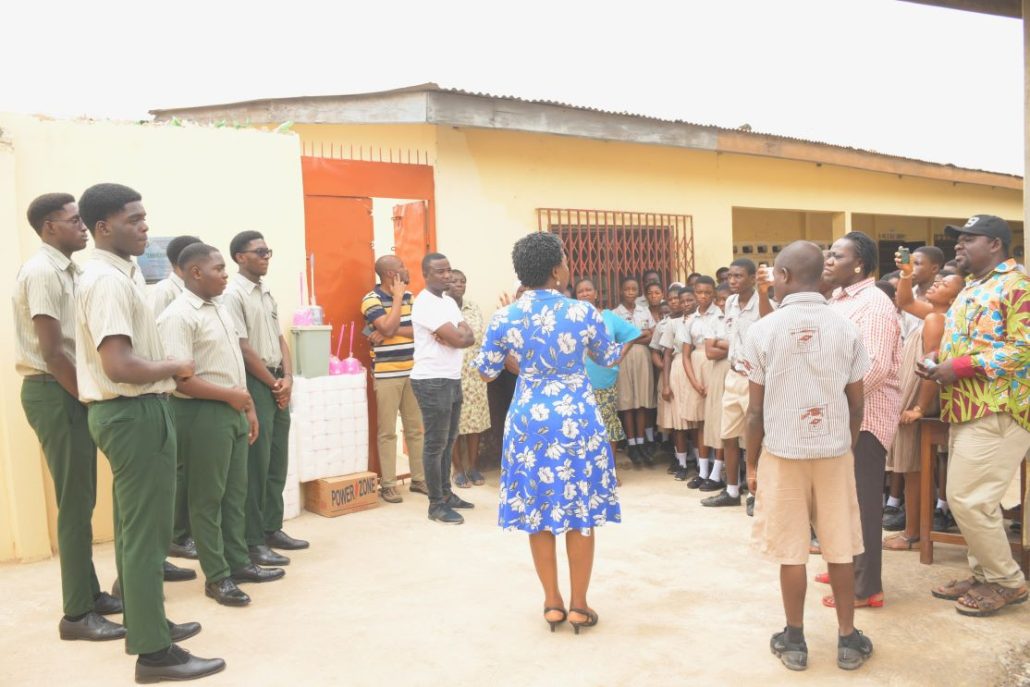 SaniFlush is a CAS project initiated by my group members: Kow Yarney, Papa Fynn, Gregory Fokou Kotang, Bradley Hoedafeia and Nadeem Yakubu. We wanted to solve a problem in our community. We researched and found Ashaiman Number 2 school. For this project we made use of SDG 6: Clean Water and Sanitation, to embark on this project.
We realised their WC was not in good shape. Their WC was not secured, therefore many people in the community climbed the walls to use the facilities and left them unclean. The lack of sanitation brought about diseases among the students in the school. For some of the staff when they wanted to ease themselves, they had to travel back home to do so. Many students also fell ill because they couldn't ease themselves. We then embarked on SaniFlush to solve this problem.
To solve this problem, we had to plan and find various ways of raising funds for the project. In planning we came up with an idea for raising funds: selling students paintings to event guests. We also explained our project to the guests and asked if they wanted to donate towards our project. We also got donations from our family members, friends, and teachers. They also played a pivotal role in raising funds for the project. All of this could not be done without collaboration. Collaboration has played a huge role during this project. Through cooperation and determination, we raised about GHC 30,000 for the renovation of the WCs in the school. As of 7 September 2023, we handed the new WCs to the school.
In conclusion, through collaboration and hard work we managed to renovate the WC's for Ashaiman Number 2 school. Through this project I have learnt to collaborate with colleagues, many ways of planning and raising funds and I have gotten an experience of a lifetime. Malcolm Ashun, G12.
Visiting Ashaiman No. 2 and participating in the renovation of their washrooms was an incredibly humbling and rewarding experience. It's moments like these that remind us of the power of community and the impact that a small group of dedicated individuals can have. As I stepped into Ashaiman Number 2, the warmth and hospitality of the community members immediately struck me. Despite the challenges they faced, their spirits were high, and their smiles were contagious. The sense of togetherness and resilience in the face of adversity was palpable.
The renovation of the washrooms was a collaborative effort that brought us closer as a team. Witnessing the community's excitement and gratitude as we worked tirelessly to improve their facilities was heart-warming. The joy in their eyes as they saw the transformation unfold was truly priceless.
Donating tissues and cleaning detergents may seem like small gestures, but they can make a significant difference in the residents' daily lives. It's often the basic necessities that we take for granted that can have the most profound impact on those in need. These simple items will help maintain hygiene and cleanliness in the newly renovated washrooms, ensuring a healthier environment for everyone.
The most touching part of the visit was interacting with the children of Ashaiman Number 2. Their curiosity and enthusiasm were boundless. We spoke to them about the importance of education, dreams, and the endless possibilities that lie ahead. Their dreams and aspirations filled the air with hope and promise, reminding us that every child deserves a chance to dream and achieve greatness.
Leaving Ashaiman Number 2, I couldn't help but reflect on the interconnectedness of our world. While we may come from different backgrounds and circumstances, our shared humanity unites us. It's a reminder that giving back and supporting one another, even in the smallest ways, can create ripples of positive change that extend far beyond our immediate actions.
This experience in Ashaiman No. 2 reinforced my belief in the power of community, empathy, and collective action. It's a testament to the fact that, regardless of where we are in the world, we all can make a difference in the lives of others. As I carry the memories of this visit with me, I am inspired to continue seeking opportunities to uplift and empower communities in need, knowing that the bonds we create are stronger than any challenges we may face. Nadeem Yakubu, G12.