T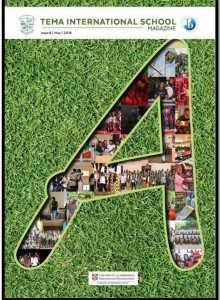 IS Magazine, 'A' edition is the talk of town! Students from Grades 7 to 11 invaded the CAS office to sign up for the copy of TIS Magazine. Below are some of their comments:
Felix Gray: I feel very good about the magazine knowing my very own grade mates crafted it. I was overjoyed to see myself in the magazine as it was really unexpected. It is a beautiful piece of work.
Shanda Otchere: I feel much honoured to read this magazine since it's the first magazine I would be seen in. In some of the pictures, I didn't look the best, but it made me cherish the moments I had. I'm happy and satisfied with this edition. It is very spectacular.
Ivan Katey: I like the school magazine a lot. The quality of the pictures is just on point and I like how the A-team was able to put in a lot of pictures.
Betty Adjavon: I am very excited and honoured to read this magazine. The text is much more legible for me to read and the pictures are very clear. Indeed, the magazine is on point.
Frances Quartey-Baiden: This magazine sums up the highlights of the academic year in a fun way on bright pages. Although I would have loved some dry jokes and "gbaaments", the magazine is entertaining and outstanding.
Rinnah Krobo-Edusei: Since this is my first school magazine, I am beyond ecstatic at what I witnessed. The fact that TIS students, my grade mates to be specific, were able to create this magazine is very amazing. Look out for me; I am the ever-smiling IB1!
Georgina Brassor Anaafi Mensah – Auntie Gina. This year's A-magazine is one of the best magazines so far. Simply put it was: Adorable, Amazing, Attractive, Alluring, Audacious, Adaptable, Adventurous, Affable, Affectionate, Ambitious, Amusing and Awesome. Kudos to Afia Addai and Eyram Diaba and their team. You simply make things happen. Thank you and keep up the spirit.
Setor Adih (Asst.Librarian) – The Library Team would like to congratulate the editorial board and all students and staff who contributed immensely to the publication of this year's issue of the TIS magazine. The 'A' edition of the TIS magazine truly portrays the qualities of the school and exhibits how much TIS has achieved during the 2015/2016 Academic year. I am a proud reader of 'A' and I highly recommend to anyone who wants to know what TIS is all about. TIS Indeed is more than a school.
Bijoux Hukportie – A-M-A-Z-I-N-G!!! A-W-E-S-O-M-E!!! No wonder this year's magazine is called the 'A'. I feel elated and super proud of the "A" team. I cannot count the number of times these brilliant minds walked in and out of the administration block to work on submitted articles etc. Good job, Afia Addai ,and your "A" team!! Ayekooo!