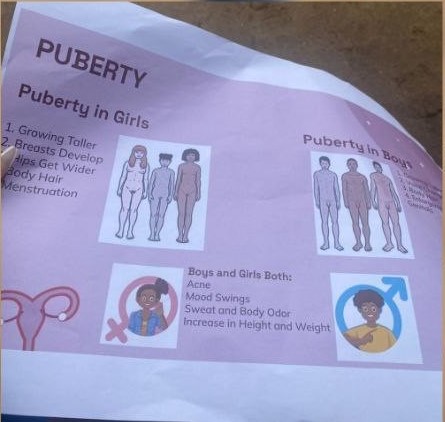 Red and  Proud!  A female's body is fragile, and unfortunately, not all women have the privilege of understanding their bodies. Some societies often treat it as something mysterious or forbidden. However, joining the Ghana Girl's Guide Association alongside Senam Dzakpatsu, Ashley Asante, and Alicia Asante from SOS HGIC, Kendall Codjoe, and myself (G11) from Tema International School has been the most impactful decision I've made. It has opened my eyes to the lack of knowledge among Ghanaian girls about their bodies, leaving them incredibly vulnerable. I felt compelled to share my knowledge and help them realise the importance of their bodies.
In certain regions, menstruation is seen as taboo, and girls who experience it are believed to be untouchable and excluded from activities like football. As intelligent young women, we decided to challenge this taboo. We travelled to PramPram and visited the new Ningo Chps, where we were warmly received by beautiful young ladies who sang the girl's guide song. We shared a story about a girl who saw menstruation as sinful, emphasising that it is a natural process. We also discussed the reproductive system and encouraged them to abstain from early sexual activity and its consequences. Personally, I gave a presentation on puberty, reassuring them that the changes they experience are normal and nothing to be alarmed about.
Afterwards, we split into groups and taught them how to make reusable cloth pads using Macintosh rubber, as commercial pads can be quite expensive. I even connected with some of the girls and shared snacks with them. This project has been incredibly fulfilling because I had the opportunity to both teach and learn from this experience. I was unaware of reusable pads and the burden girls feel during their periods.
I believe young women worldwide must stand by and assist other underprivileged young women who may be unaware of certain aspects of their bodies and their functions. Instead of keeping our knowledge to ourselves, we should share it with others. Joining the Ghana Girls Guide Association can significantly contribute to the support and empowering experiences of more girls.